One of the most monumental steps forward in healthcare has been the ability to connect patients and health professionals by remote means. Online physiotherapy has been a valuable resource for people in rural communities. It is also for everyone who is mindful of outside visits due to COVID-19. Online physiotherapy can be just as effective as in-office visits. North 49 Physical Therapy in Saskatoon, SK is committed to making quality online therapy services available throughout the entire province.
What Is Online Physiotherapy?
Online physiotherapy – also called remote physiotherapy, telehealth, and telerehab – is a session or series of sessions with your physiotherapist conducted via your computer or smartphone. The sessions include full video and audio exchange between patient and therapist. The sessions are completely secure through encryption. Depending on the treatment needed, an initial visit usually takes about 45-50 minutes. Follow up visits are usually 25 minutes long.
Whether it's to assess an injury, guide a recovery, help overcome pain or to help maintain good command of balance and mobility, online therapy services can provide you with the expert treatment you need to facilitate your recovery and stay well.
Online Physiotherapy for Saskatchewan Communities
While the overall number of physicians and therapists has been growing throughout Canada, the need for these health professionals still greatly outnumbers the supply. This is especially true in our province. Just last year the Canadian Institute of Health Information reported that more than nearly 19% of Saskatchewan residents do not have a regular doctor. This is the second-highest provincial figure, just behind Quebec.
More than 1.17 million people live in Saskatchewan and about half of that number live near Saskatoon or Regina. That leaves many hundreds of thousands of people without access to care that can keep them healthy, pain-free, and living longer lives. North 49 is committed to closing this healthcare gap in Saskatchewan. Our convenient online therapy is available throughout the entire province – anywhere there is an internet connection.
Why Is Online Physiotherapy Needed?
When you do not have access to care, it is difficult to stay healthy. Without professional assessment, you do not know if the sprain that you are limping around on might actually be a break that you ought to stay off of. You may be experiencing pains or swelling after a surgical procedure or sports injury and you do not know how to treat it yourself. Without proper treatment, injuries often do not recover optimally, which can lead to permanent complications.
How Online Physiotherapy Can Help
Many injuries and conditions can be effectively diagnosed and treated remotely. A few examples include:
Injury Treatment
Have you slipped on the ice? Injured a limb? Been in a car accident where you seem to be okay, but still feel some after-effects? Fallen in your own home? Many of these scenarios can involve injuries that should be assessed by a professional. Our online services can help determine the source of the problem and determine the next steps toward recovery and the need to seek additional care.
Recovery Regimen
When you have that knee or hip replacement, your physician and therapist gave you instructions to follow so that you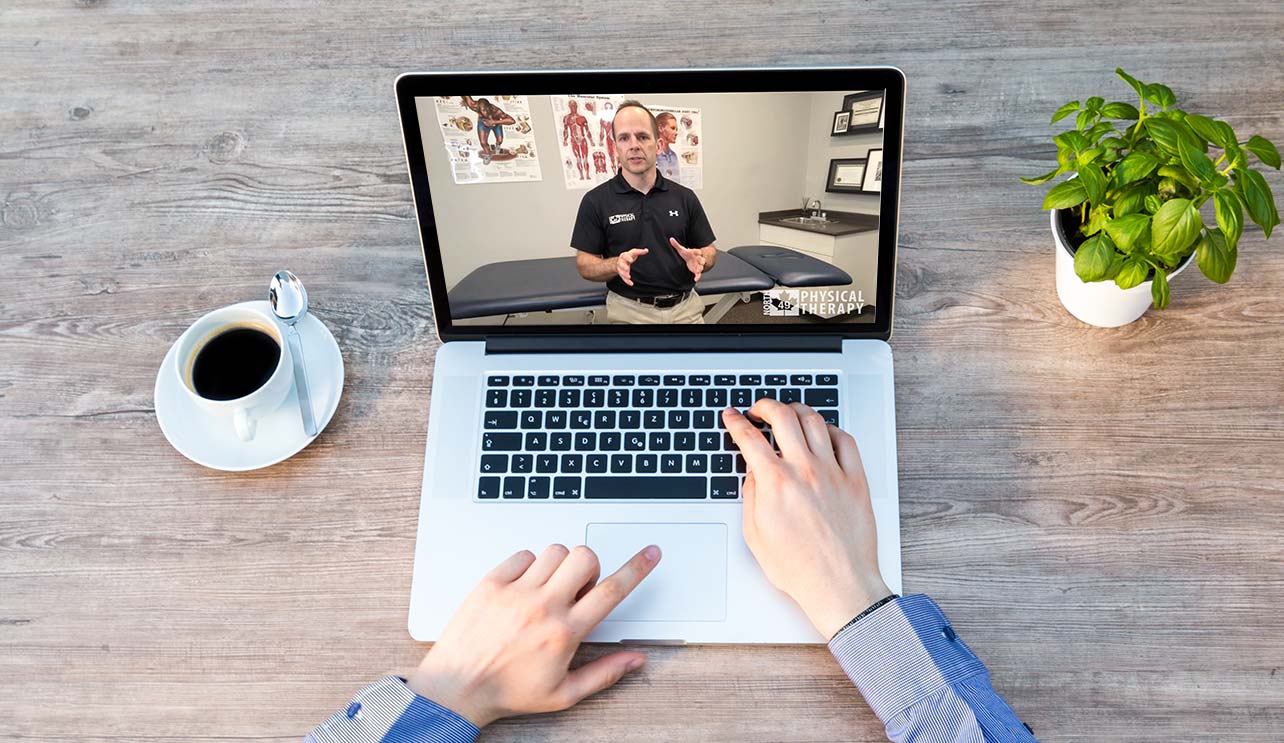 recover your maximum joint flexibility. Have you been able to perform them without guidance? Are you seeing and feeling the progress that you should be experiencing? Online therapy can stay with you throughout your recovery to maximize your outcome.
Vestibular Therapies
Many of us suffer occasionally or frequently from dizziness and imbalance, particularly as we age. The cause may well be a vestibular disorder that can be assessed and treated before a serious accident occurs. The vestibular system involves the inner ear and brain, as well as the eyes. Our online therapy services can help address the dizziness and provide strategies to improve your balance.
Temporomandibular Disorders
Do you hear a ringing in the ears? Is there pain around your jaw, or an unnatural popping as you eat or talk? You may well have issues with your temporomandibular joint – better known as the jaw bone and, a syndrome called TMJ for short. This condition can be a prime cause of tinnitus, which can drive people to depression. Therapies that can relieve TMJ symptoms can be provided by our team through online therapy.
Concussion
For some, symptoms from a concussion such as headaches and dizziness can persist. Online therapy can be used to help determine the cause of the ongoing symptoms, then provide a step by step plan to address them.
Not Just Cure, Prevention
Along with online physiotherapy, today's medicine places greater emphasis on preventive care, which lets people live longer, healthier lives. Our team can help you build healthy routines for today that will help pre-empt more serious conditions or injuries tomorrow. This is especially important for people that live with chronic diseases, such as diabetes or COPD. Without attention and activity, chronic diseases can spiral out of control.
Take immobility as an example, which is in fact a chronic disease. Did you know that falls are the number one fatal injury for seniors? About 1 in 3 people aged 65 fall each year, often with disastrous effects. Even when the fall is non-fatal, it often involves a fracture or other serious injury that requires hospitalization or extended care at home. Mobility and balance training by our online therapy team can help pre-empt falls through gait evaluation and balance training.
Convenient and Secure
Our remote therapy services are available to people throughout Saskatchewan, no matter how remote. The only equipment that is needed is a smartphone, laptop or desktop computer that is able to connect to the internet. The only technical savvy you really need to have is the ability to communicate clearly with your therapist. The online connection to our practice is completely secure; you can speak to our therapists with ease, use your phone or computer's camera to show us injury, how well you can move, etc.
More Than Therapy – Guidance
In many cases, wellness is something that needs a helping hand and proper guidance. In rural areas, it is often hard to make it to the clinic for needed physical therapy. It is harder still when the recommended regimen takes time and requires professional monitoring to gauge progress. Our team can recommend therapies along with advise regarding activities and exercises that can relieve your symptoms, maximize your recovery, and keep you in better shape to prevent physical decline.
How Can I Get Started?
All you really need to get started is the desire to seek professional medical attention from our experienced therapists. The technology to conduct effective online therapy is here and in wide use already. There is little technical knowledge
needed – if you can make a call from your smartphone you already have most of the required skills. If your home computer system includes a camera, you can enjoy our sessions from your desktop or laptop.
For years, both patients and clinicians have waited for the day when distance is no longer a barrier to quality healthcare delivery. That day has finally arrived, and it is the wave of the present, not the future. No matter where in Saskatchewan you live, you can take advantage of expert remote physiotherapy from the comfort of your home. Call North 49 Physical Therapy in Saskatoon, SK to book, or schedule a consultation thought our online scheduling platform today!