Where to Find Us
Address:
Grosvenor Park Centre
#19 – 2105 8th Street East
Saskatoon, SK, S7H-0T8
Hours:
Monday to Friday: 9am to 6pm
Conveniently located in Grosvenor Park Centre which is wheelchair accessible and has plenty of free parking.
This error message is only visible to WordPress admins
This endpoint has been retired
Error: No posts found.
Make sure this account has posts available on instagram.com.
Book an Appointment Today
Welcome!
Is Pain, Stiffness, Weakness, Dizziness, or Unsteadiness affecting your quality of life? If so, welcome to North 49. North 49 is a family owned physiotherapy clinic that opened in 2010 to help people like you. Our personalized treatment approach consists of guiding you how to manage your physical problem better (i.e. exercise prescription, instruction on self mobilization techniques) and through hands on manual therapy techniques, if needed, to help you along the way. Empowering you is key. So, if you want to be an active participant with addressing your health and its impact on your quality of life, feel free to book an appointment with one of our team members.
What is Physiotherapy?
Physiotherapy and Physical Therapy are interchangeable terms for the same profession. Physiotherapists are health care professionals with in-depth knowledge of the body and how it functions. They use their knowledge and clinical skills to thoroughly assess injuries or conditions which may be causing pain, stiffness, weakness, dizziness, imbalance, headaches, etc. They focus on health promotion, injury prevention, and rehabilitation of injuries and other medical conditions. Treatment options may consist of hands-on treatment, prescription of therapeutic exercises, and various self-management strategies to help you restore your movement, function, and quality of life. Our goal at North 49 Physical Therapy is to get you back to your daily activities whether it be work, play, or just the day-to-day.
At North 49, our physiotherapists are committed to your health and physical well being. In order to provide the best service possible, we are continually taking ongoing educational courses to further advance our knowledge and skills. Given our level of expertise, our physiotherapists have also been asked to provide educational opportunities to other health care professionals throughout Canada.
Our experienced physiotherapists have extensive training in a variety of fields including:
vestibular therapy for imbalance and dizziness
concussion management
temporomandibular therapy for jaw, face, and ear pain
hand therapy
torticollis and plagiocephaly affecting newborns
exercise therapy
sports, motor vehicle, and work injuries
headache and back pain management
Our goal at North 49 is to provide you strategies so you can feel and move better, and get back to your normal daily activities whether it be work, play, or just day to day. In addition to this, the team at North 49 can also provide insight into injury prevention strategies and how you can improve your physical performance whether it be on the sports field, backyard, or work place.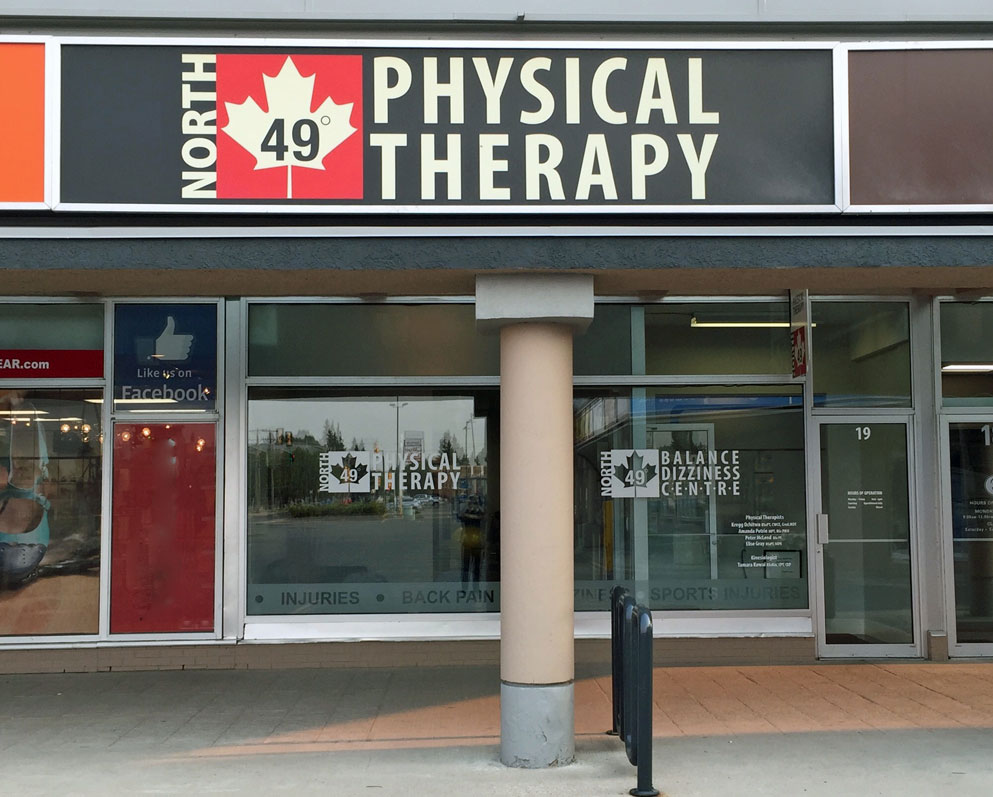 Booking Your Physio Appointment
At North 49, our clientele are of all ages, activity levels, and backgrounds. We are here to help you Move Better and Live Better. We offer a diversity of physiotherapy services for sports injuries, motor vehicle injuries, work injuries, musculoskeletal pain (ie. neck, back, jaw, headaches, etc.), dizziness, imbalance, and various other conditions. Our skilled physiotherapists will perform an assessment of your condition and based on the results, will provide and recommend the most appropriate treatment options.
To book an appointment you can book online by clicking the links "Book Today" or "Book an Appointment". These links will take you to our online schedule where you can select the appointment time that works best for you. Alternatively, you can call North 49 at 306-343-7776 or come into the clinic from 9am to 6pm Monday to Friday to book an appointment. Go here to prepare for your visit.