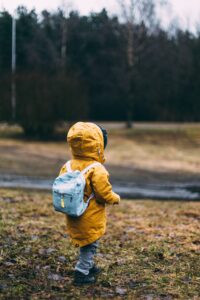 Are you sending your children off to school with a brand new backpack slung over one shoulder? If you are like most parents, a new backpack was on your child's back to school shopping list along with pencils, erasers, and assortment of colourful binders, and a geometry set.
How can you ensure this shiny new backpack helps your child's health and safety? We've compiled a few tips for you here!
Features of a good backpack
The Canadian Physiotherapy Association (www.physiotherapy.ca) outlines some helpful pointers to reduce the strain sometimes associated with using a backpack:
Padded Back – reduces pressure from the contents digging into the back.
Padded, contoured shoulder and chest straps – to reduce pressure and balance weight. Backpacks should have thickly padded (2 inches wide), adjustable shoulder straps and an extra hip strap. Shoulder straps should be adjusted to the bottom of the pack is 2 inches above the waist.
Waist belt or hip strap – to distribute some of the land to the pelvis. The waist belt distributes the weight of the pack down through the legs, which are more used to carrying weight.
Compression straps – on the sides or bottom of the backpack help compress and stabilize the articles in the backpack.
Reflective material – for visibility to drivers at night. 
In using a backpack also remember the following:
Use both of the shoulder straps – to help distribute the weight of the pack more evenly and to promote a more natural posture.
The weight of the backpack and contents – should never weight more that 15% of the carriers body weight.
The backpack should be fit to the person, not the person to the backpack.
What about adults?
Now that you have some ideas on what to look for with a backpack, what about your heavy, bustling at the seams attache case or purse that you carry to work everyday? If need be lighten the load, make sure there are wide straps, consider wearing a properly fitted back pack or use a mobile office case with wheels and a telescoping handle. 
In conclusion, pack it light and wear it right. 
If you have any questions about fitting a backpack or have ongoing symptoms due to wearing a pack or purse of some sort, please feel to contact us at North 49 Physical Therapy. One of our physiotherapists will be glad to assist you.